Founded by Mrs. Izola Collins in 1992, the Galveston Heritage Chorale was begun with a mission to preserve and promote the choral renditions of African American folk songs, called Spirituals. These first American folk songs, with the outgrowth of the Blues from these slave moanings, are the authentic beginnings of American music.
We strive to involve people of all races, creeds, nationalities and ages in a purpose of performing music that will unite, edify and educate all people.
Thank you for visiting our website!
2023 Juneteenth Program
On June 18, 2023 we joined with the Galveston Symphony Orchestra for a special Juneteenth Program in the historic Grand 1894 Opera House featuring Galveston composers Izola Collins and Dr. Frederick Tillis.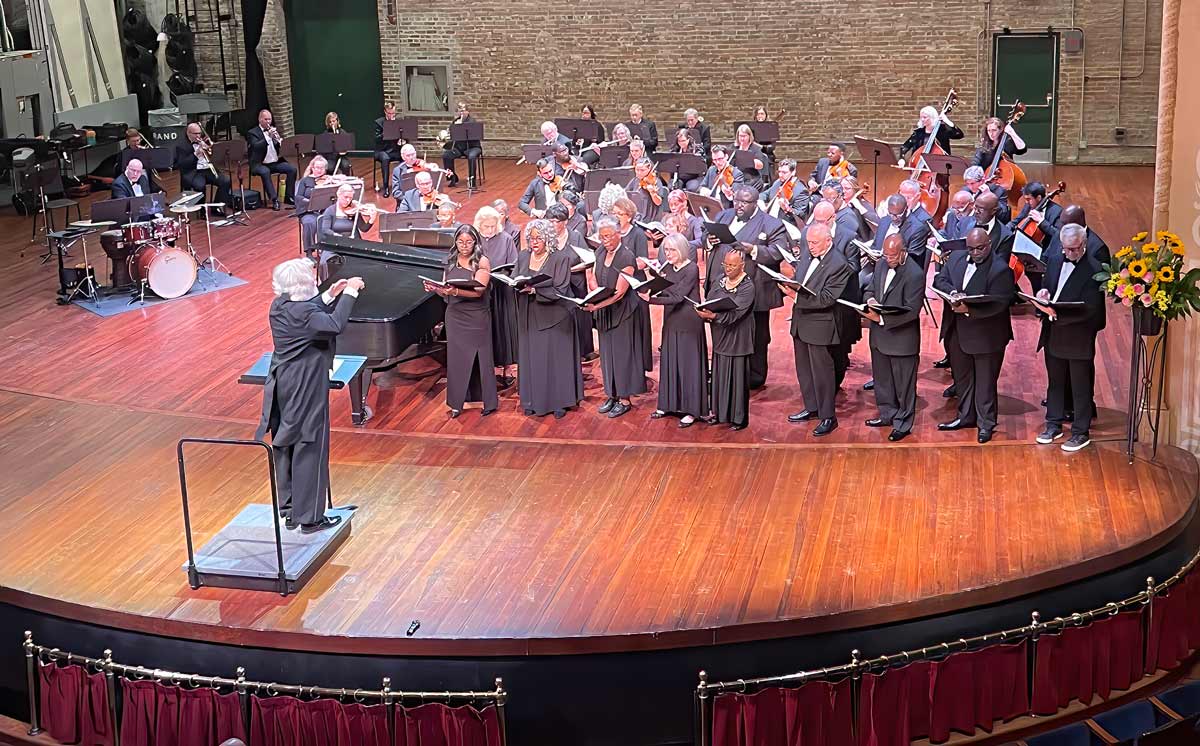 Here are some video highlights:
Saturday, December 12, 2022: Bethlehem's Child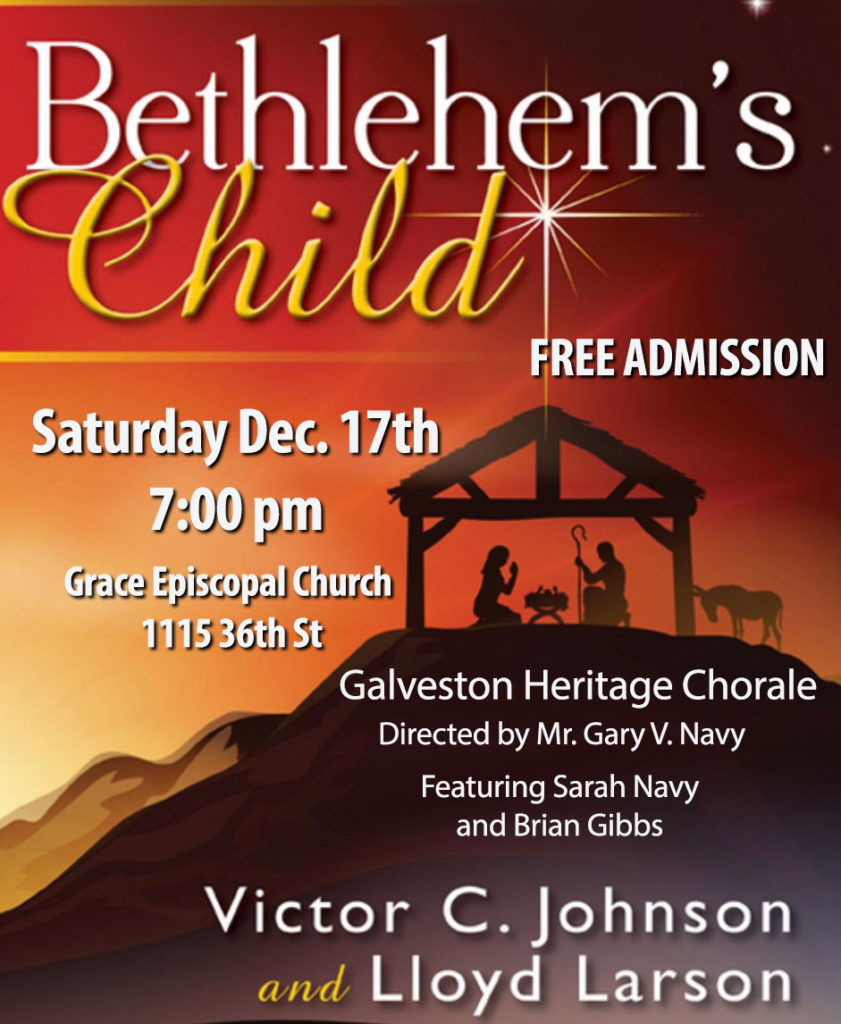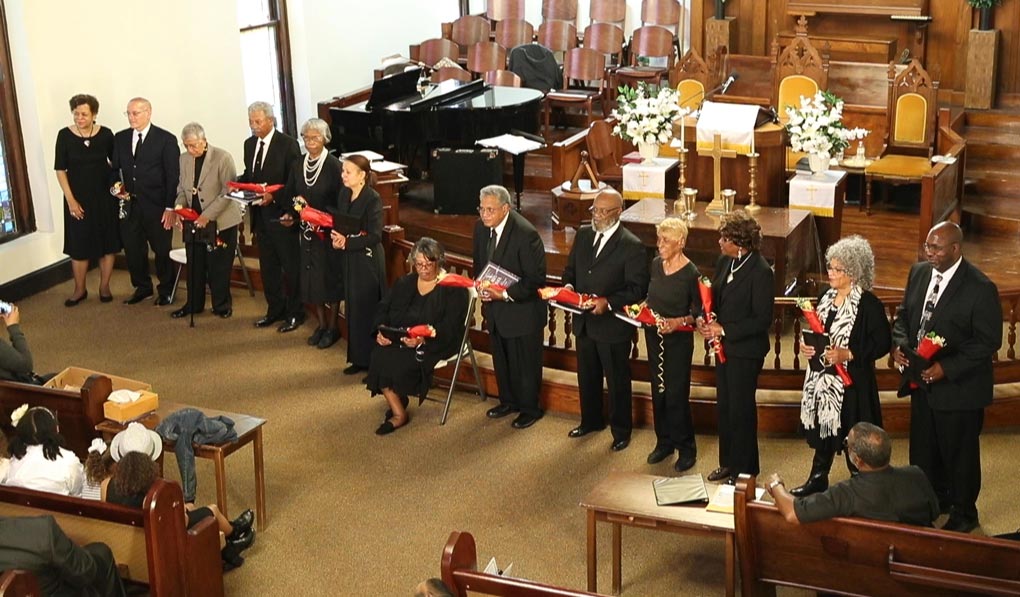 History of the Galveston Heritage Chorale
Over the years, the Galveston Heritage Chorale, composed of about 30 members of various ethnicities in the community, has performed on various occasions in the community, many times annually. The Chorale was honored in 2018 by the Galveston Art League in their 2018 "An Evening of Art and Music Gala" at the San Luis Grand Ballroom.
The Chorale gives full concerts at least twice a year and has enhanced others' programs for local events such as Dr. Martin Luther King Day, Juneteenth celebrations, Ball High Baccalaureate, Hotel Galvez Annual Tree Lighting, downtown Holiday in the Park, Frank Incaprera's Summer Beach Band concert et al, as well as providing Christmas caroling for the Gulf Health Care and Meridian nursing homes. The Chorale presented the musical production "Journey to Freedom" at the 1894 Grand Opera House in 2016.
The Chorale has performed in collaboration with the Galveston College Chorale, and with the Bay Area Chorus and Galveston Symphony Orchestra in production of The Messiah. Other collaborations have included Houston groups such as the Riverside United Methodist Church Choir, Spirit of Sankofa, and Barbara Tucker and The Chosen Few, as well as mainland groups such as McKinney Memorial Methodist Church Choir. The Chorale has traveled as far as Shreveport, Louisiana as guest performers at the Celebration of Negro Spirituals presented by the New Dimensions Choral Society. The Chorale presented a joint Christmas concert with the Galveston Community Band (directed by Doyle Neuwiller) on Dec.16, 2018 at Sacred Heart Church.
And the Galveston Heritage Chorale has actually been heard internationally! On July 5, 2006, thanks to Astronaut Stephanie Wilson, the Galveston Heritage Chorale's performance of "Lift Every Voice and Sing" was broadcast as one of NASA's wake up calls from outer space! (See: http://www.dljstudios.com/lift.htm)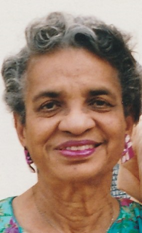 From the outset, the founder and director of the Chorale, Mrs. Collins, served as a volunteer, both in her role as executive director and in that of music director.
She invested her time and expertise to advance the Chorale, as well as her finances to keep the Chorale afloat.
One of the last accomplishments Mrs. Collins and the board completed in the months before she unexpectedly passed in 2017 was receiving finalization of our 501c3 status.
Since her passing in June 2017, the Chorale has reorganized in an effort to keep Mrs. Collins' mission and its mission alive. The Chorale rehearses and performs regularly and has even added new members during this past year. We have been fortunate to have a founding and longtime member of the Chorale, Mr. Gary Navy, take on the role of Music Director, and Mrs. Collins' daughter June Collins Pulliam has taken the role of executive director. Mr. Navy is a school music teacher and church music director. There is also a choir accompanist for each of whom bring a vast body of experience and expertise in accompanying to our Chorale.
Equity Statement
The Galveston Heritage Chorale is committed to equality and justice for all people. This has always been the core of who we are, as evidenced by our longstanding mission statement that includes "We strive to involve people of all races, creeds, nationalities and ages in a purpose of performing music that will unite, edify and educate all people."
Our commitment to equity, diversity and inclusion has always opened doors to participants and audiences of all backgrounds. The Galveston Heritage Chorale introduces a wide range of people to the historic African American spiritual and invites audiences to its powerful message of overcoming, of hope and worship. The language of music transcends linguistic barriers, bringing a message of unity, understanding, hope and joy to diverse audiences through in-person and virtual performances or videos.
We add our voice to that of the Black Voices Matter Pledge*:
"We recognize that educational and cultural choral institutions devalue certain musicians, musical cultures, and methodologies; this system of valuing is embedded into our very understanding of what choir is and what it is not. Indeed, the commonly held imagination of the choir excludes many singing communities and communal singing traditions from around the world. This exclusion is a type of cultural erasure that predominantly invisiblizes Black, Brown, and Indigenous (BBI) [3] voices and bodies from the choral ecosystem. Further, we assert that the notion of an ideal or "good" choral sound is racialized, [4] and the fetishistic pursuit of a singular choral sound prevents choral practitioners from cultivating other types of singing and other types of goodness—including humanity, compassion, and empathy—in their singers and communities. [5]

~https://www.blackvoicesmatterpledge.org/
To this end, we commit to action towards these goals, including but not limited to these, as excerpted from The Black Voices Matter Pledge:
● Research local issues of segregation, inequity, and income inequality that adversely impact BBI communities, and investigate methods of concrete support, solidarity, and investment that can be offered to those communities.
● Vigorously and regularly research the lives and contributions of Black musicians, musical leaders, and musical scholars from within the African American spiritual tradition.
● Honor the legacy of Black musicians within this tradition by explaining our research to our musicians and community.
● Invite Black artists, musical leaders, and musical scholars to engage in music-making with our community, deemphasizing performance and emphasizing connection.
● Hire, empower, and follow Black administrative, creative, and educational choral leaders
● Create new leadership pathways and awards for anti-racism work and community engagement
● Foster and develop partnerships with organizations that specifically serve BBI artists, conductors, composers, teachers, businesses, and schools
*https://www.blackvoicesmatterpledge.org/
In sum, the Galveston Heritage Chorale was founded on, and continues committed to, the tenets of human respect and decency. We believe in music as a tool to educate and strengthen community, and that song has the power to transform lives and to unite people across differences.
Thank You
Funding has been provided to the Galveston Heritage Chorale from Humanities Texas and the National Endowment for the Humanities (NEH) as part of the federal ARP Act. All opinions, findings, conclusions, or recommendations expressed on this website do not necessarily represent those of the National Endowment for the Humanities.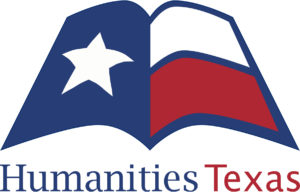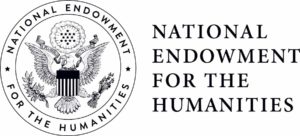 The Galveston Heritage Chorale also thanks the Harris & Eliza Kempner Fund and the BIPOC Arts Network and Fund for their support.