GHC Founder, Mrs. Izola Fedford Collins Biographical Information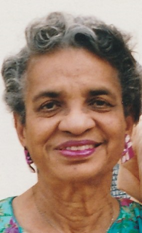 Izola Fedford Collins was born on Galveston Island Oct. 26,1929, the third generation of her family to live on the island since 1865.
She graduated from Central High School, the oldest high school for African Americans in Texas, as salutatorian of the 1944 class, at age 14.
Early Years
She studied music education at Prairie View A & M University where she played trumpet in the prestigious stage band called the Coeds, with whom she toured the eastern coast up to New York's Apollo Theater. She graduated from Prairie View in 1948 and began teaching at Hilliard High School in Bay City, TX at age 18. In the summers she worked on her master's degree in music from Northwestern University in Evanston, Illinois, at a time when the university was integrated but not the dormitories, necessitating her finding alternative housing. In 1952, she married Roy L. Collins, Jr , also a native of Galveston, and in 1953 she earned her Master of Music degree from Northwestern Univ. Over the next several years she worked in Hitchcock and Galveston, Texas as a band director and choral director. During this time, she and her husband Roy raised their three children, June Collins Pulliam, Roy L. Collins III and Cheryl Collins Crayton.

After Retirement
Mrs. Collins retired from Galveston ISD in 1984 after 30 years as band director and choir director; and in that same year lost her husband Roy after an extended illness . Following her early retirement, Mrs. Collins made a successful run for the GISD School Board and served on it for nine years, the last as president. She served on a variety of other boards (St. Mary's Hospital Board, Old Central Cultural Center Board, Galveston Musical Club, City of Galveston Arts Commission, et al) over the next 30+ years and also honed her skills as an author, writing four books, Island of Color: Where Juneteenth Started (the history of African Americans in Galveston from 1865-2000), Divine Light Never Goes Away, I Know That's Right and Pip, Squeak and Zoom (children's book). She was a lifelong member of Reedy Chapel A.M.E. Church, Delta Sigma Theta sorority, et al and won many awards including Galveston's Steel Oleander award in 2006.

Dreams Fulfilled
In the last year or so of her life, she fulfilled a lifelong dream of composing an orchestral piece, Galveston Survives, and she conducted its debut by the Galveston Symphony Orchestra in September of 2016. Mrs. Collins was also founder and director of the Galveston Heritage Chorale, from 1992 through a Chorale performance she conducted in a program only two days before she passed, June 12, 2017.